FREE Swimming Pool Maintenance Checklist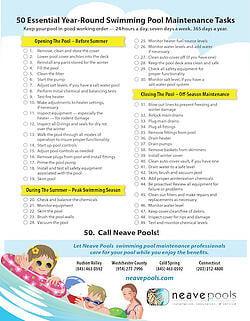 You've already designed and built the swimming pool of your dreams — how will you ensure a long life for it, one that offers you years of summer enjoyment?
The answer is year-round swimming pool maintenance that cares for every aspect of your swimming pool.
Not sure where to start? Download our printer-friendly swimming pool maintenance checklist that outlines all the maintenance tasks you'll need to complete — in the off season and at the peak of the summer season — to keep your pool running swimmingly.
This handy checklist covers 50 of the most important tasks around…
Opening your pool
Maintenance during peak swimming season
Closing your pool
Cleanliness tips
Chemicals to balance
Parts to inspect and service
Crucial safety steps
Don't delay! Download our FREE Swimming Pool Maintenance Checklist today by filling out our simple form.